Dear Lowes ;
Thanks for the free pergola plan pictured.
I tried to use your on line form--however it was inoperable. It apparently didn't like my name, postal code or email address. I have instead posted my feedback form here. Hopefully someone with Lowes will find it.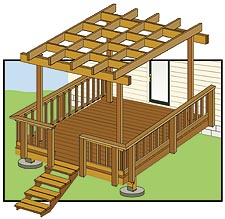 Regarding your free on-line pergola plan.
#1 problem, no lateral strength
#2 floating footings and attached to the dwelling--one or the other. Attach it to the dwelling and you may damage that dwelling and be libel for the damage when they follow the "free" plan...waiver or not.
#3 What is the point in supplying a plan that no one will ever build? It is too ugly.
I own
http://www.gardenstructure.com/
Have a look at our
pergola plans
, they are not free--but lots of people actually build them and send us photos. Our best designs are for our
builder group
only...after a few years when they have new designs we retire them and offer them as DIY and Professional Level Plans.
I can only imagine how much you paid a graphic artist to develop this free plan for you... I am sure it was expensive. As a woodwork designer and a master carpenter I am going to speak very plainly and I apologise in advance if my words seem hurtful or coarse. Your outdoor woodwork plans are about the worst I have ever laid eyes on.
Building something from them would surely end up in disaster-and with the way they look they just shouldn't be built. Ever. I could shoot holes in your plans for an hour or two if you want--but I believe that to be unproductive. I see no potential for success working from what you have.
The trouble is that inspired details are an absolute nightmare even for seasoned tradesmen to develop, (I guess that is why our
Builder Group
is growing so quickly--they get great details that have taken over 20 years to create).
In my not so humble opinion, Lowes owes it to their shareholders to explore the possibility of
GardenStructure.com
developing their woodwork plans in the future.
Kindest Possible Regards,
L